Top 3 Socks with the Naboso Insoles.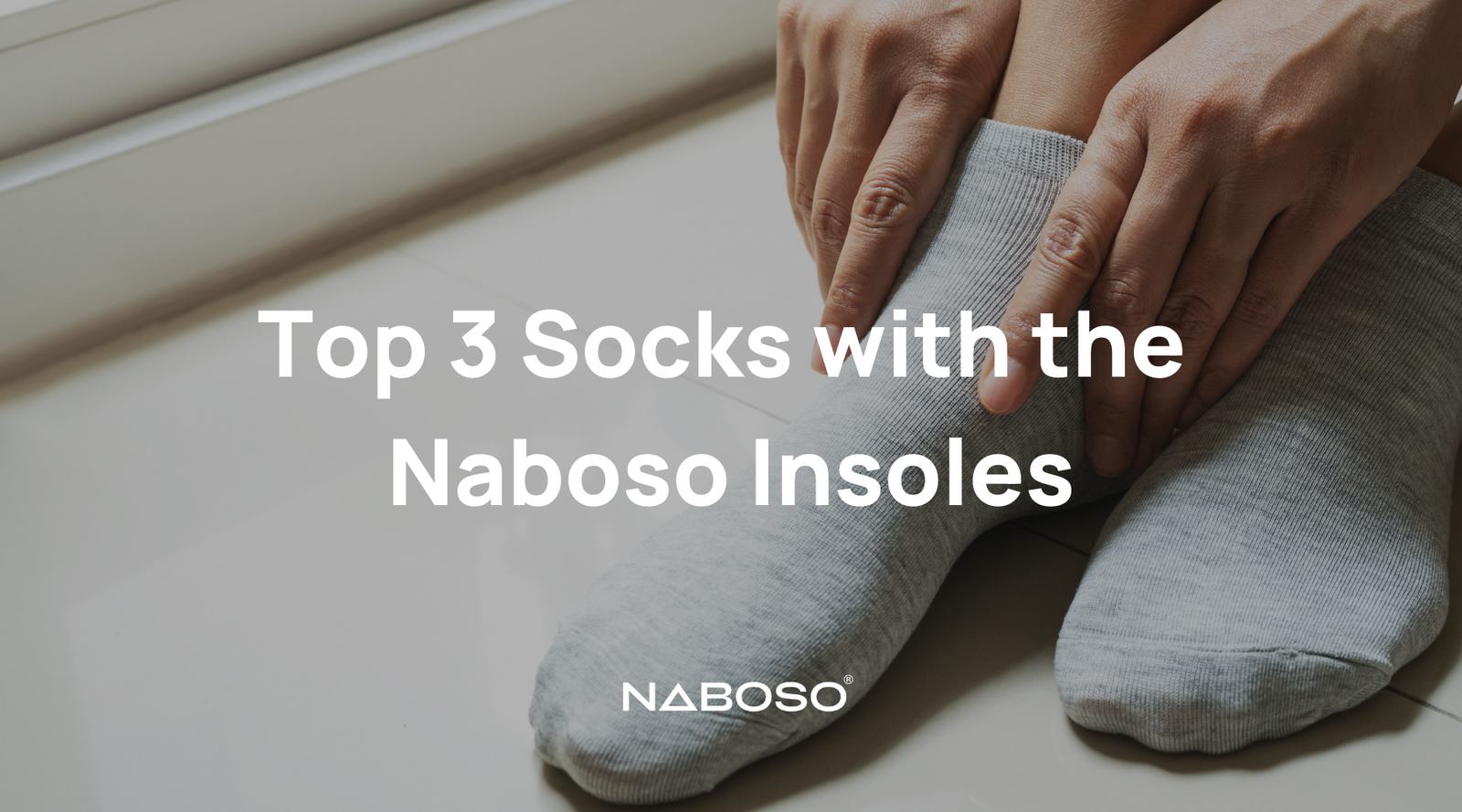 One of the most common questions we get asked at Naboso is, "do I need to wear the insoles barefoot?"    
Technically the answer is "no", but socks do create a barrier to sensory stimulation. The greater the skin to insole contact, the more sensory input you are bringing into your nervous system. Just like mittens are a barrier to your hands, socks are a sensory barrier to the feet. 
Having said that, not everyone is able or willing to go sockless in their shoes. We at Naboso know that socks are a reality, so we wanted to come up with a list of some of our favorite socks that are thin enough to allow the sensory stimulation of Naboso to pass through. 
All of the socks below have been worn and tested by Naboso CEO, Dr Emily Splichal 
Sock Scenario #1 - Daily Use / Business Footwear 
I'm not a sock person but this sock is thin! This is the thinnest single layer sock by Wright Sock that provides a second skin feel. Comes in both white and black and could pass as either an athletic sock or dress sock for men. This sock goes great with the Naboso Activation Insole. 
FEATURES:
Dri-WRIGHT™ll performance fibers keeps the foot cool and dry.

Seam Free Toe for added comfort.

Y Heel promotes anatomically correct fit.

Favorite for the Minimalists.
Sock Scenario #2 – Athletic Shoes  / Running 
Going for a run or hitting the gym and want to wear a sock to absorb sweat and odor? This Hyper Thin Run sock by Drymax is perfect with our Naboso Duo Insole.  The Hyper Thin Running Crew is  unmatched in their ability to provide dryness, breathability and comfort.  The socks are flat knit making them about as thin as a dime!
FEATURES:
Drymax dual-layer sweat removal system.

Mesh stripe vents provide significant breathability 

Size Large weighs less than 12 grams! 

Favorite for the Minimalists.
Material:  70% Drymax/Olefin, 14% Polyester, 5% Elastane, 11% Nylon
Sock Scenario #3 – Neuropathy / Sensitive Feet 
Our recommended sock list would not be complete without including one that is perfect to pair with our Neuro Insoles.  When I found these thin bamboo diabetic socks by Hugh Ugoli, I knew they needed to be included in this article.   Made with micromesh and breathing holes, these seamless toe socks provide comfort, breathability and most importantly – sensory stimulation! 
FEATURES:
Silky soft diabetic crew socks for thick calves 

Reinforced toe and heel for comfort

Micromesh and breathing holes for sweat 

Comfort seam diabetic socks
Material:  80 % Bamboo 17 % Polyamide 3 % Elastane
Sock + Naboso
Although I know a majority of our users will be wearing socks, I still encourage you to occasionally use the Naboso Insoles without the barrier of socks. That bump in sensory stimulation is powerful to the nervous system and is worth the side effect of sweat on the insoles.    
To make you feel perhaps more comfortable with going without socks, please know that all Naboso Insoles are designed to be easily cleaned. Simply throw them in a sink with water or machine wash and air dry!   
Wondering why Naboso hasn't found a solution to this sock issue yet? Stay tuned as we have something very exciting in the works launching in 2021!
---