Minimal Shoes Strengthen Feet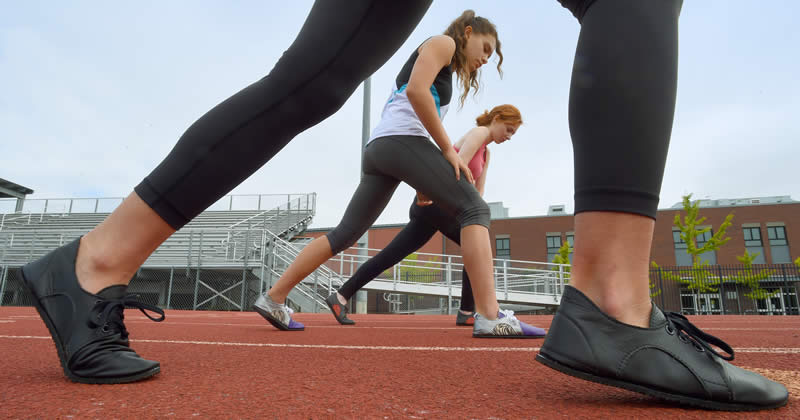 Foot strength is not only necessary for maintaining the arches in our feet or proper body alignment above, it also plays an important role in how we maintain balance and transfer energy when we walk.  
With 29 muscles in each foot, these muscles need the same conditioning and recovery of any other muscle group in our body.  
The difficult part of maintaining strong feet is that most people do not know how to effectively strengthen their feet, or may think they don't have time to exercise their feet.
But don't worry as we got you covered!
Below are two effective ways to strengthen your feet and can be done simply by walking around!
The first way to strengthen feet is by wearing minimal shoes.  
A 2019 study showed that wearing minimal shoes is an effective way to strengthen the feet when walking around.   This study found that after 6 months of wearing Vivobarefoot shoes for 70% of the time when shod resulted in a 60% increase in toe flexion strength.
Toe flexion strength functionally is extremely important as toe strength is how we balance, push off when we walk and release power.   It is essentially the most important action our foot muscles can do.
The 2nd way to strengthen the feet is by wearing textured insoles. 
The unique texture of the Naboso Insoles has shown to activate and strengthen the intrinsic muscles of the foot as evidenced through improvements in balance.    A 2016 study by Nazari et al. found that use of textured insole improved balance in those with flat feet.
Want to get the most out of every step you take?   
We suggest combining the minimal shoe with any of the Naboso Insoles!
So which minimal shoes do we recommend?
A few of our favourite minimal shoes are listed below and broken down into a couple categories:
Walking & Running
Lifestyle & Daily Use
Weight Lifting
Children
Don't forget to pair them with your favourite Naboso Insoles including our Performance when running, Activation with lifting and Duo for highest stimulation. 
---